Looking for an electric grill that performs as well as a traditional grill?
We've got the perfect list for you…read on to know more or click here to go to the comparison table.
We can all agree that electric grills are far easier to install and use than traditional gas grills. Not just that, if you are looking for a convenient option of the grill without a large space for a grill at your home then electric grills would be the best option for your home. But, the major issue most people have with electric grills is they don't perform as well as the traditional grills. To avoid this issue, we look at some of the top electric grills in 2022!
We've previously looked at some of the top grills out there in the market. With this post, our main focus is to help you choose the best electronic grill out there in the market. We've tried to cover each aspect of choosing a grill in detail and have tried to provide our favorites. If you'd like to share your experiences with any of the grills mentioned below then please do so using the comment section at the end of this page.
Editor's Choice – Best Electric Grill 2022
Weber is a solid brand when it comes to electric grills. If you're looking for the best solution to your grilling needs then Q1400 is the grill you need!
Low-Budget Pick – George Foreman GFO240S
George Foreman is a great brand and GFO240S is a solid option if you're looking for a budget-friendly electric grill that performs well despite the low price point.
Top 10 Electric Grill in 2022
Weber is a popular name when it comes to grill solutions. It has many different models for different requirements successfully boasting in its name. Weber Q-1400 is actually a revised version of the old Q-140. Q-140 was a well-known and appreciated model, so the company decided to continue it making it a little better.
Weber Q-1400 is a lot more sturdy and improved with functions. You would be able to trace large grip handles, sturdy rear & front cradles along with ergonomic side handles. It has a 189 square-inch total cooking area and a 1560-watt electric heating element. You will be amazed by the grill results. It has received many positive customer reviews and is easy to work with. If you are looking for a fuzz-free long-life outdoor electric grill this is surely one to look up to.

Before deciding over this one, make sure you see the video below to see how Weber Q1400 is in action:
Char-Broil Patio Bistro 180 is easy to handle, sturdy, and a small griller. Char-Broil also has a series of successful grillers on its list. TRU Infrared Patio Bistro 180 griller is a cool option. The griller can be easily used in any regular 120-Watt power outlet and it would provide 1500-watts of power.
The food grilled in it is juicy with no to minimum flare-ups. The grill provides a 245 sq. in. cooking area and also has a convenient warming rack. It is a small and stylish piece of an electric grill that can be transported conveniently. It becomes easy to take it out of some specific outdoor event. Customers have liked the product and there are many positive reviews. If you are looking for a small and easy-to-work with electric-grill that can fit in even small areas then you are definitely going to like this one.

George Foreman is a recent addition to customer liking in electric grills and they have managed to grab attention positively. This grill can be easily used indoors or outdoor reason behind it is the removable stand. Another much-appreciated feature of it is the George Tough non-stick coating. There will be less need for oil and butter and it becomes very easy to clean leaving no residue.
It has a 240 sq. in. circular cooking surface and claims to cook 15 servings for a large group of people. It also has adjustable temperature control making it more convenient. Overall, most of the features are unique and add to the comfort of the user. Undoubtedly customers are in love with this product and it is trending this season.

If you'd like to see this grill in action then watch the video below:
#7. Char-Broil TRU Infrared Electric Patio Bistro 240
Char-Broil TRU Infrared Electric Patio Bistro 240 has all the amazing features that you may be looking for in an ideal electric grill. This grill is super sturdy and has great mobility because of the wheels attached. It has got temperature control to help you control the temperature in various foods. There is a 240 sq. in. cooking area and an additional 80sq.in. warming area.
The feature that was attractive for us to notice was the additional foldable side shelves. Honestly, when we are out for grilling there is a lot of stuff that is required to be handy but there is a very less number of grills that satisfy this aspect. But with this one, you can stay easy with ample preparation space. It is easy to clean and also there is a removable grease tray that ensures zero mess. it is durable and easy to work with. You would love the features if you are looking for easy-to-move, store, and provide extra cooking space grill. There are many happy customers and a lot of positive reviews from users for this one.

If you'd like to know more about this model then watch the video below:
This multi-plate griller is sufficient for family use and is a perfect partner for your family's outdoor picnics or functions. It can bake, grill, and can also prepare muffins. There are 3 changeable ceramic grill plates that are easy to remove with single touch and dishwasher safe. It is pretty easy to change plates and clean them.
The grill is ideal for a family that likes to grill as well as bake. There is 75sq.in of cooking surface and the patented slope design on each plate. You would not need to worry about fat residues with the cool design. Features like a digital control panel, adjustable cooking angle, hinge, and removable plates make this grill a super performer. If you are looking for a good multi-functional small grill than this one is made for you.

If you'd like to know more about this model then please watch the video below:
#5. Easy Street Lock 'N Go Electric Grill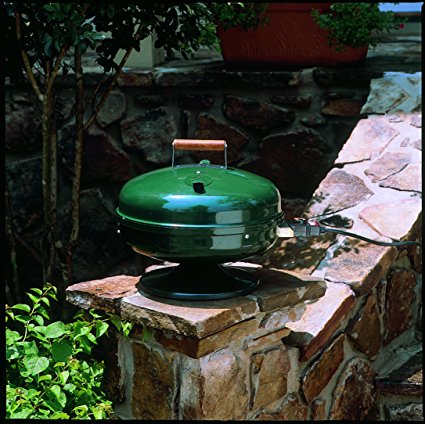 Easy street Lock 'N Go is a simple no-nonsense electric grill. Customers like this product because of its simplicity and user-friendly functions. You can plug it into any standard electric outlets. It has 176sq.in of cooking space. There is also a wooden handle on the top for easy handling. This grill is comparatively lightweight than its other counterparts.
Once you unbox the product there would not be much of assembling required. It is easy to store and can be conveniently kept aside when not in use. There are no tough functions and things to understand with this electric grill. And the results are fabulous. A lot of customers have also recommended this product for its simplicity.

#4. George Foreman GFO201RX Indoor/Outdoor Electric Grill
Most of the George Foreman grills have one thing in common and it is their simple yet elegant appearance. These grills would surely get you praise for your stylish accessory choice. George Foreman GF0201RX is another addition to its stylish range. This electric grill is rectangular in shape and appears stunning. It can serve 12 people with its 200 sq.in. working area.
There are adjustable temperature control and removable stand which easily transforms it into a tabletop grill. Apart from all the general regular features GF0201RX is equipped with a fat removing slope design. It is a trademark design that allows a grill to be little sloppy keeping all the food oil-free and fat-free. We absolutely loved this feature about the grill. Other grills leave the oil around and you would need to clean away excess oil or use little to keep it oil free but with George Foreman GF0201RX forget that hassle. You can enjoy fat-free food conveniently.

If you'd like to know more about this model then please watch the unboxing & demo video of it below:
#3. Cuisinart CEG-980 Outdoor Electric Grill
Our search for the best electric grill also led us to some popular models that are trending based on customer reviews. One such product we encountered on our way is Cuisinart CEG-980 this electric grill looks a little different from the conventional ones we have always seen. It has unique briefcase design. It is lightweight and easy to carry.
There is no assembly required and has a cooking area of 145sq.in. It can be easily plugged into any standard electric outlet. The grill has porcelain-enameled grill grate and a beautiful telescoping stand. Customers like the way it grills food and also the different look that it exhibits. If you are looking for a good performing small yet trendy outdoor electric grill then this one is for you. We would not be surprised if you would turn into one the positive reviewers after buying the grill.

#2. Masterbuilt Electric Patio Grill
One more product that we heard from customers was Masterbuilt Electric Patio Grill. This grill is somewhat similar in appearance to Char-Broil TRU Infrared. The design looks almost same and one can get confused between two if they do not have a lot of knowledge about differences.
Masterbuilt Electric Patio Grill is a simple electric grill. It has 5 different temperature settings, 2 wheels to stand for easy mobility and 2 side shelves for extra preparation space. It grills good and would not let you down with your expectations from an average outdoor electric grill. If you are looking for a budget option grill with enough working space and a good result you can count on this one.

#1. George Foreman GFO240S 15-Serving Indoor/Outdoor Electric Grill
It is hard to keep eyes off George Foreman grills when considering standard reliable outdoor electric grills. This one again caught our attention in our quest. George Foreman GF0240S Outdoor Electric grill firstly looks elegant and simple. It wins one's heart simply with a single view. It provides 240 sq.in of cooking area and can make over 15 servings for a large group of people.
Features include adjustable temperature control, George tough nonstick coating, drip tray, removable stand and its patented fat removing slope. The best part of any George Foreman grill is probably its patented slope design. As the company has got its patent over it no other brand can provide this feature. So, for all the fitness conscious folks these grills are the ultimate goal. The design of the product and its sturdy appeal are great and widely appreciated by customers. George Foreman outdoor electric grills also have a long lifespan and error-free consistent performance over the time. You are likely to encounter fewer problems with this brand.

If you'd like to know more about this model then please watch the video below:
Conclusion
These were some of the leading electric grills that we could find in our research based on the user reviews and customers likings. There may be other products that are good. But these ones are the best based on their functionality and convenience to use.
If you've still not made up your mind about which grill to go with then continue reading further. We've written a detailed guide on how to choose a grill that works the best for you and what aspects to consider while choosing a new outdoor grill.
Types of Electric Grills
We've selected grills based on the following two types in our research:
Best Outdoor Electric Grills
Best Indoor Electric Grills
Outdoor Electric Grills
These are the grills that you can also use outside in your backyard or in your garden. They come with extensions that allows you to have them standing in your backyard without a need of table. Compared to indoor grills, they mostly are both table tops and standing.
The main positive aspect of choosing an outdoor electric grill is the power source. If you like grilled food but don't like the flames and all the fuss with gas and charcoal then these are the perfect type of grills that you need. You can have a get together or a party in your backyard and use these grills like the traditional grills without any issues at all.
The best outdoor electric grill that we recommend is: Char-Broil's Patio Bistro 240. It comes with fancy folding side shelves that come in very handy when you're using your grill.
Indoor Electric Grills
The reason you might want to prefer an indoor electric grill compared to an outdoor grill is if you live in some cold weather where you don't get much sun and are stuck inside your home for the most parts. With the help of a quality indoor electric grill you can enjoy a hot & juicy grill inside your kitchen.
Most of the indoor electric grills are table-tops that you can conveniently place on your kitchen counter. You don't need to use gas or charcoal in these grills so there is no fuss at all. Though, some homeowners require you to take permission before using a grill inside the house so it is good to check on that before making a decision.
Thank you for reading our experts review. If you like this review than don't forget to check out our top 10 cordless brushless lawn mowers of 2022.
Best Electric Grills of 2022 - Our final ratings!
#1. George Foreman GFO240S 15-Serving Indoor/Outdoor Electric Grill

#2. Masterbuilt Electric Patio Grill

#3. Cuisinart CEG-980 Outdoor Electric Grill

#4. George Foreman GFO201RX Indoor/Outdoor Electric Grill

#5. Easy Street Lock 'N Go Electric Grill

#6. George Foreman 5-Serving Multi-Plate Evolve Grill System

#7. Char-Broil TRU Infrared Electric Patio Bistro 240

#8. George Foreman GGR240L 15-Serving Indoor/Outdoor Electric Grill

#9. Char-Broil TRU Infrared Patio Bistro 180 Electric Grill

#10. Weber 52022001 Q1400 Electric Grill
Summary
We researched the top 10 leading grills in the market and these were our final ratings. We'd recommend that you go with Weber Q1400 if budget is not an issue. If you're looking for a budget-friendly option then our recommendation would be to go with George Foreman GFO240S.